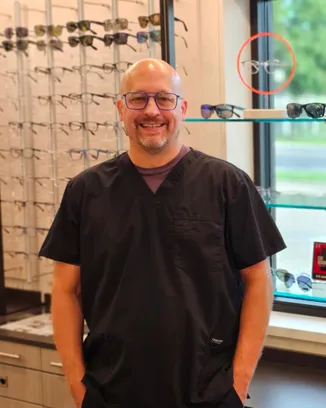 Dr. Joshua Cantrell grew up in north central Kansas graduating from Kansas State University with a Bachelor's degree in Biological Sciences.
Before becoming a doctor himself, he gained several years of valuable experience as an Optician and Optometric assistant working for doctors in two outstanding optometry practices in Kansas and Tennessee. Dr. Cantrell then completed his Doctor of Optometry degree from Southern College of Optometry in Memphis, Tennessee. His experience as both a doctor and optician give him an excellent set of skills to help patients with even the most difficult or task-specific needs.
Dr. Josh, along with his wife Dr. Patricia, opened Envision Eyecare in 2006. He enjoys practicing primary care optometry where he can help patients of all ages see well and keep their eyes healthy. He works hard to stay up-to-date on all aspects of optometric care from vision correction options to diagnosing and treating eye diseases such as Cataracts, Glaucoma and Ocular Surface disease.
Dr. Josh lives in Lee's Summit with his wife (Dr. Patricia Cantrell) and daughter. He is a member of the Lee's Summit Chamber of Commerce and Professional Eyecare Associates of America. In his free time, Dr. Josh enjoys golfing, cooking, reading and watching football.
---
Doctor Patricia Cantrell has over twenty years of experience providing full-scope optometric care.
Her undergraduate degree in Biological Sciences was obtained at the University of Nebraska. Dr. Cantrell graduated, With Honors, from Southern College of Optometry, receiving her Doctor of Optometry degree in Memphis, Tennessee. She obtained an additional level of training by completing an Optometric Residency program the following year.
In caring for her patients, Dr. Cantrell strives to be informative and detailed. She truly enjoys being able to help her patients see their best and understand their eye health concerns. She helps patients with straight-forward vision problems as well as those needing more specialized solutions for eye health and vision. She cares for patients with Glaucoma, Cataracts, and Ocular Surface Diseases as well as those wanting the most up-to date technology in glasses and contact lenses.
Dr. Cantrell is a Lee's Summit resident, and enjoys spending time with her husband, Dr. Josh Cantrell, and their daughter. She also enjoys golf, travel, movies, and gluten-free cooking.
She is a member of the Lee's Summit Chamber of Commerce and Professional Eyecare Associates of America.
---